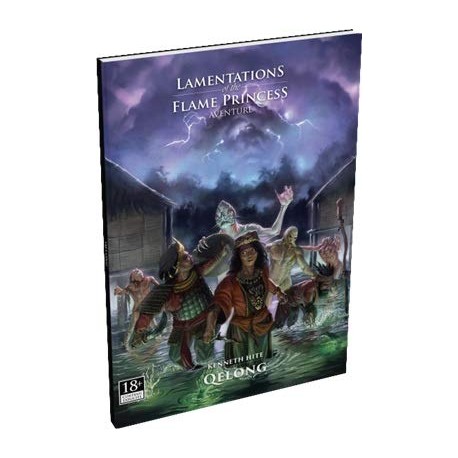  
Lamentations of the Flame Princess - Qelong (French)
Pendant une génération, deux entités à peine concevables se sont affrontées pour le contrôle de Sajavédra, une lointaine terre légendaire du sud-est. Chacune d'elles voulait contrôler ses riches ressources d'âmes, ses récoltes abondantes ainsi que son vaste réseau de lignes d'énergie et de temples. Elles l'ont irrémédiablement dévastée. Aux abords de ce champ de bataille, d'une ampleur presque cosmique, dans la Vallée de la Rivière Qélong, se trouve une arme perdue, un artefact ensorcelé qu'un archonte distrait a utilisé pendant cette guerre avant de l'oublier.

Qélong est le décor oriental cauchemardesque imaginé par Kenneth en s'inspirant des quêtes mythiques et des récits de guerre, tels Le Guerrier Silencieux, Apocalypse Now, et Le Bon, la Brute et le Truand.
Cette aventure s'adresse à des personnages de niveau 4 à 6 et peut être jouée en utilisant les règles de Lamentations of the Flame Princess et d'autres jeux de rôles traditionnels.
Data sheet
Language

French
3 other products in the same category: